Description
The NordicTrack X32i is a cracking treadmill, seriously it has lots of pluses and not many downsides, in fact its hard to find something bad to say about it.
Lets start off with its standout features: Ifit combined with a 22" touchscreen.
All you see when you get on that treadmill is the massive touchscreen and it's the best way to immerse yourself in the virtual workouts guided by the worlds top trainers through the worlds most amazing scenery.
Yes, that's how IFit works, you choose the run you want to do, everything from running through the Andes to the city street so of Paris is available then your world-class trainer is ahead of you while you run and pushes you along the route, if there's an elevation or speed change that automitically happens.
HOW COOL IS THAT?
iFIT really, really rocks.
Then onto the other super cool benefits of this treadmill.
You have a 40% incline, imagine the workout you can have running or walking up a 40% incline and what kind of results you would get as a result?
Then it goes to a 6% decline which is great for serious runners who don't want to run outside during the summer in Dubai or want to run and take some of the pressure of their knees for example.
You've got 51 programs so variety, even without iFIT is never an issue.
The deck cushioning system is super and its extremely well made with a 130kg maximum user weight, you know its well made.
The Sled Push function is a great feature, its one personal trainers have been doing with their clients on treadmill while they were not turned on for years.
Have a look at how it works here: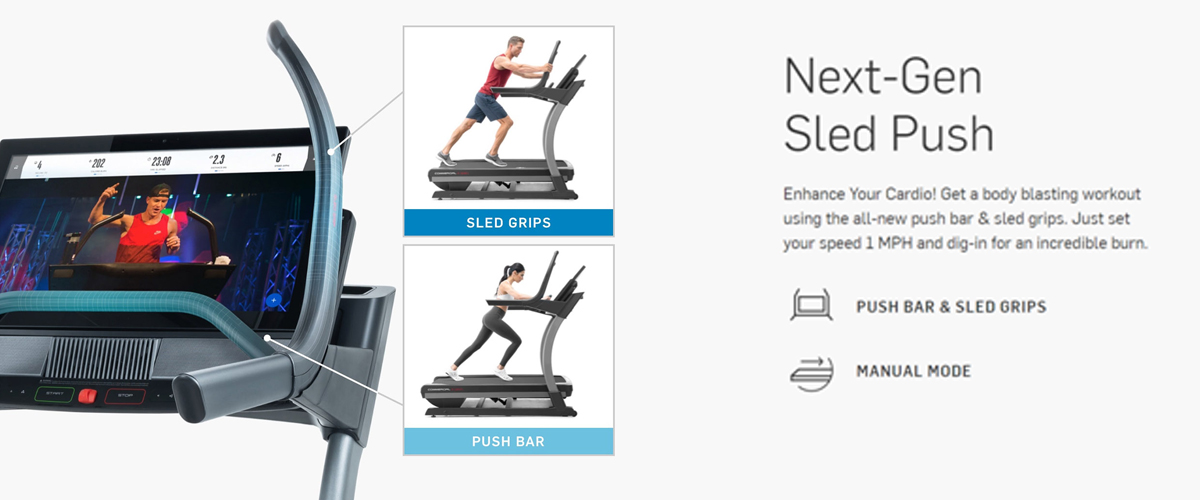 The downsides, well of course its not cheap but its not a crazy enough world to make this and sell it to make a loss so no surprises there!
Its heavy and big so you will need the space, don't think you'll be able to easily put this in a small broom cupboard!
There's no media shelf for holding a book so that's a pain if you want to walk and read at the same time and that's the end of the 'what we don't like' list.
So if you have the money, fancy a big incline and love the idea of iFIT and a big screen then this treadmill is for you, buy it today, it will be the best choice you made all year.